Repair of a Grammophone

On this old grammophone, the spring was broken. Furthermore the box itself had been treated with ship's laq and it is not supposed to be so. Also the usual smaller maintenance jobs had to be done.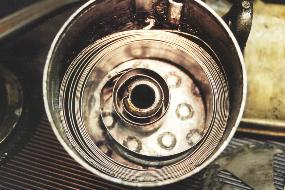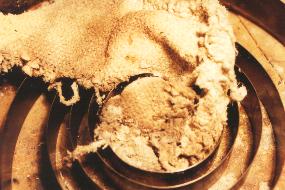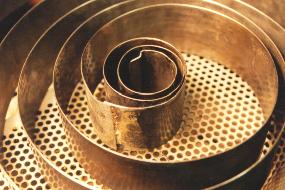 Springbox, broken spring
Ready for soldering
After soldering

The spring was broken, it had worked itself loose from the joint. Furthermore an old split had been repaired just with a screw. The spring was removed carefully - even broken springs can strike hard. Old grease was removed and the split soldered with silver. The neighbouring coils were protected against the heat with asbestos. After soldering, the spring ws cleaned, and some new grease applyed before it was remounted in the spring box.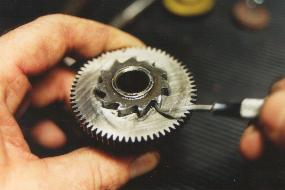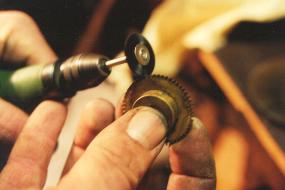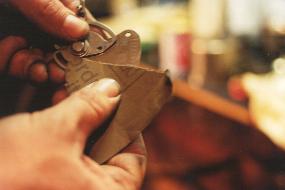 Winding wheel being cleaned
Gear wheel being cleaned
Crome getting a freshup


We have not completed that spring yet. The winding wheel was full of dirt, and burrs. This was removed in order to ensure the ratchet's perfect grip in the winding wheel. A failure of this function could cause a broken wrist. Also the other gear wheels were cleaned from dirt and burrs to ensure a smoth run of the works. The chrome plating was worn and dull. First it was grinded, using a very fine sand paper (1200 grains per square centimeter). Then grinded with grinding wax on a felt wheel, finally with polishing wax on a cloth wheel.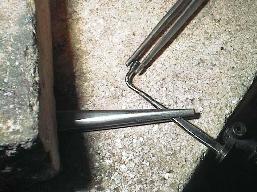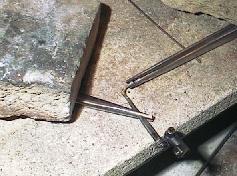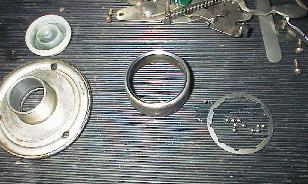 Brud p† pickup'ens balancearm
Umiddelbart efter lodning
Kugleleje til pickuparm adskilt


P† picup'en var den balancearm der overf›rer n†lens vibrationer til en membran kn'kket. Bruddet afrenes og delene fastsp'ndes s† de bliver i position under lodning. De blev i position under lodningen, herefter kunne loddestedet afrenses og pudses. Pickuparmen k›rer p† et kugleleje, og det var fuld af gammelt stift fedt. Dette leje blev adskilt og renset.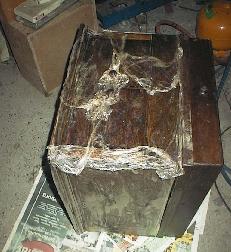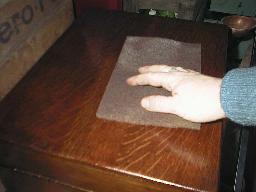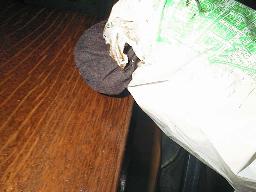 Kassen indpakket i folie
F›rste lag shellac afpudses
Sidste gang shellac


Kassen havde f†et skibslak, og det skulle den ikke have haft!. Skibslakken slibes ldit med sandpapir kornstr. 100 for at bryde den blanke overflade. Derefter p†sm›res brun s'be, og overfladerne d'kkes med tynd plasticfolie. Efter et d›gn, kan den gamle lak vaskes af. Tr'et skal derefter neutraliseres med lidt eddikesyre, og s† skal det t›rre. Derefter slibes tr'et lidt med sandpapir og s† er det klar til at f† shellac. N†r f›rste lag er t›rt, afslibes det med en slibem†tte, og derefter f›lger de n'ste lag shellac. Indtil den ser s†dan ud: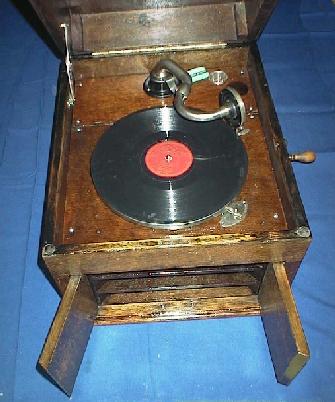 Spørgsmål besvares gerne: k_c_museum@yahoo.dk

Tilbage